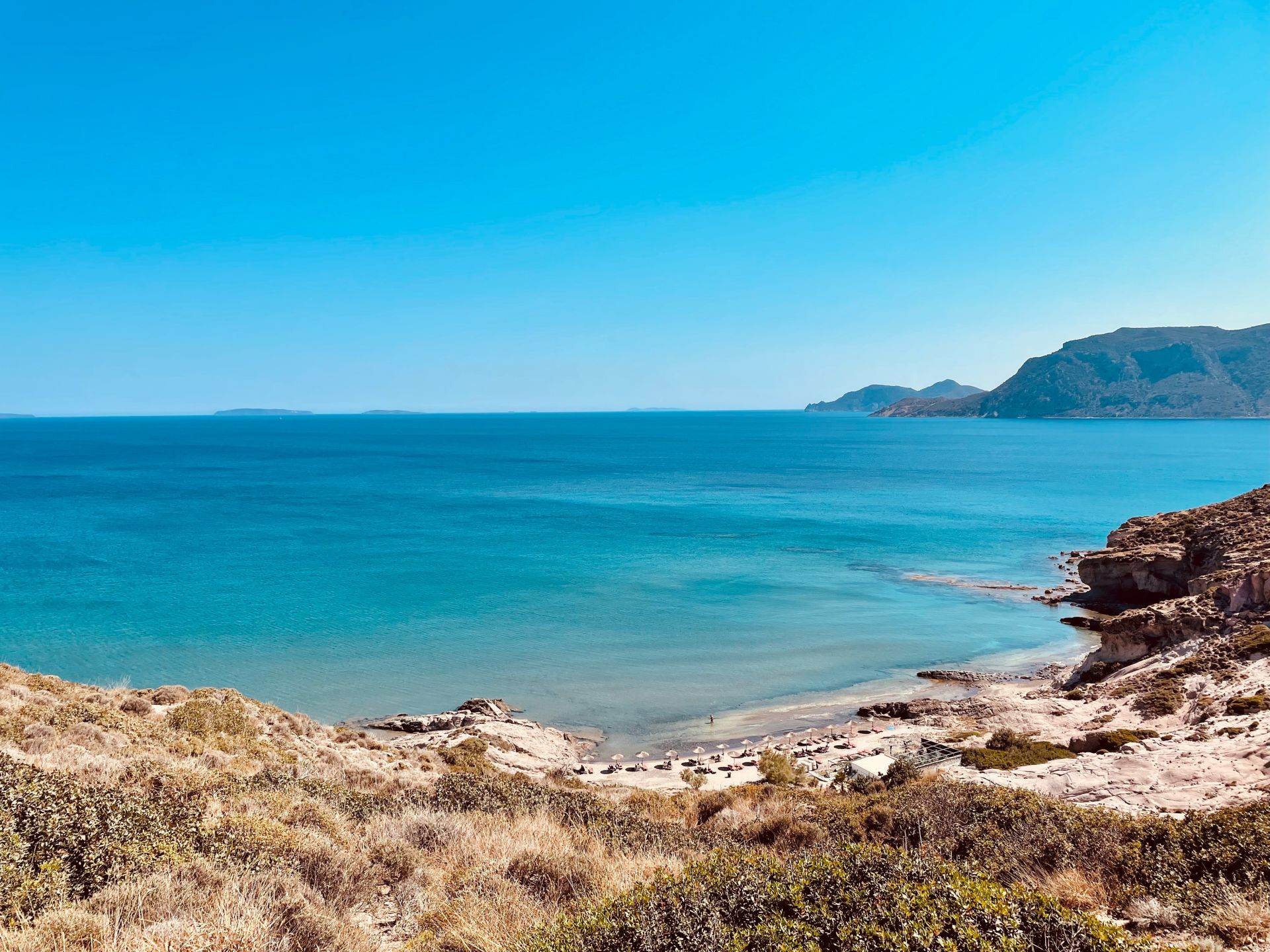 Kos Island's Coastal Treasures
Discover the coastal treasures of Kos Island, starting with Agios Stefanos Beach in the southwestern region. This exquisite destination invites you to experience its distinctive allure. Picture yourself strolling along a shoreline adorned with a blend of fine yellow sand and delicate pebbles.
Agios Stefanos Beach offers more than just natural beauty. Immerse yourself in history as you gaze upon the majestic islet of Kastri and explore the remnants of a paleo-Christian church from the 4th-5th century AD. These architectural marvels provide a backdrop of historical significance, enriching your visit with cultural exploration.
Make your way to Agios Fokas Beach, located near Psalidi, where dark pebbles and sand merge to create a serene atmosphere. Find your perfect spot along the expansive shoreline and revel in the tranquility that surrounds you.
In Kefalos, Paradise Beach beckons with its idyllic stretch of golden sand and shallow green-blue waters. This popular destination appeals to visitors of all ages, offering a slice of paradise to unwind and enjoy the beach's natural beauty.
Venture to the southernmost point of Kos to discover Cavo Paradiso, a hidden gem boasting rugged landscapes and a vast expanse of sand meeting mesmerizing green-blue waters. Prepare yourself with the essentials, as amenities are limited. However, this beach rewards those seeking solace and tranquility with unforgettable moments.
Heading north of Kefalos, Kochilari Beach entices you with its sun-soaked shoreline and shallow waters, making it a favored destination for wind and kite-surfing enthusiasts. Embrace the excitement while soaking up the natural allure of this coastal gem.
On the northern side of Kos, Tigaki Beach captivates with its sprawling sandy expanse and crystal-clear waters, boasting the prestigious Blue Flag certification. Families with children will delight in the shallow depth, while the beach's vast size ensures an uncrowded and spacious ambiance.
Immerse yourself in the coastal wonders of Kos Island, where each beach offers its own unique charm and allure. Explore, relax, and create unforgettable memories as you embrace the beauty of these captivating coastal retreats.
Posted at
June 15th, 2023