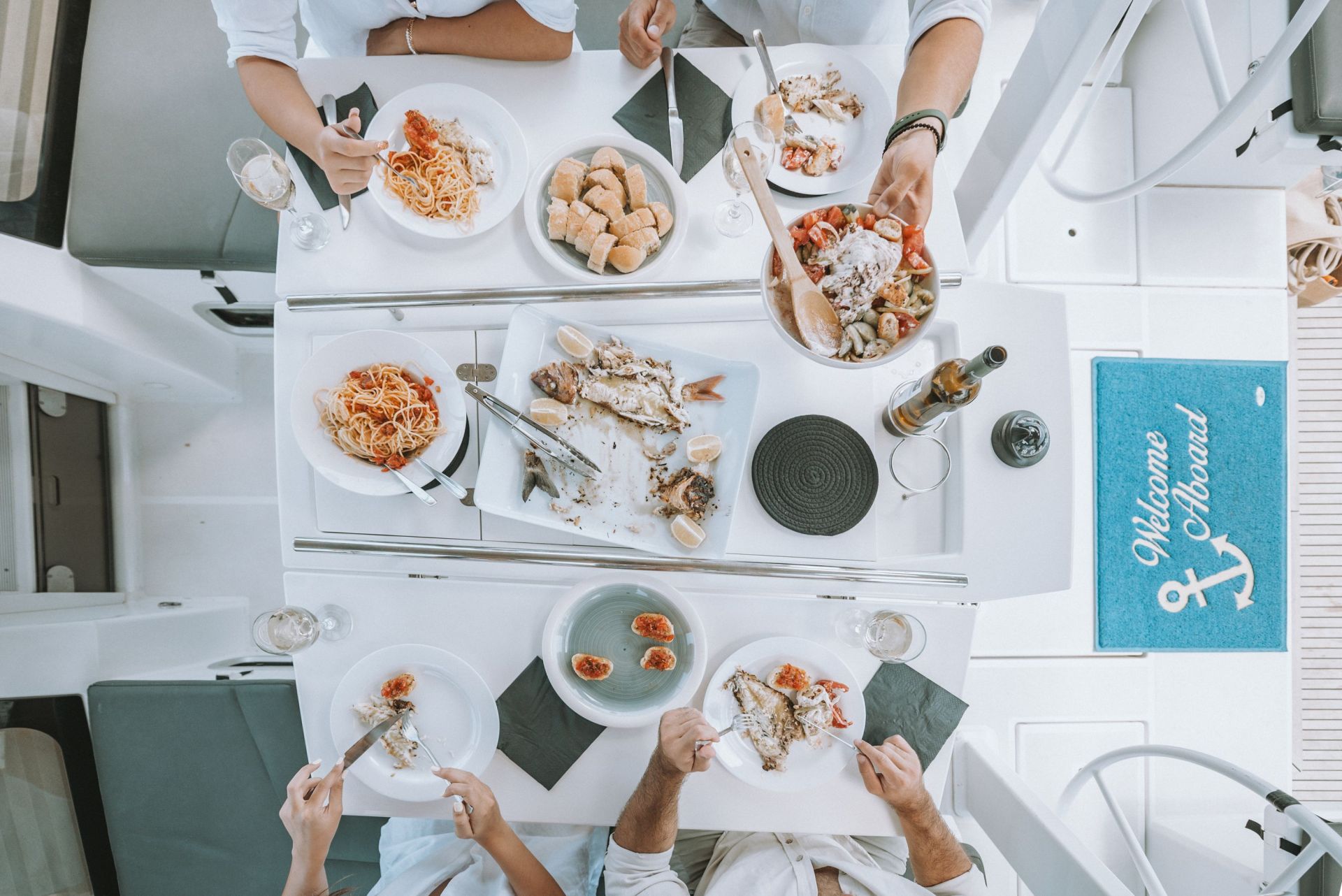 Dinner Onboard: Savor the Aegean with three traditional Greek seafood recipes for your yacht's galley
Sail the Aegean, savor the flavors. We guide you in crafting authentic Greek culinary experiences aboard your yacht
The Greek islands are not only a paradise for yachting enthusiasts, but also a gastronomic heaven for seafood lovers. The next time you find yourself anchored in a tranquil bay at sunset, consider preparing a delicious Greek seafood feast right in your yacht's galley. Here are three traditional Greek recipes from Archon Yachting that will bring the flavors of the Aegean to your table.
1. Greek-Style Shrimp Pasta
This dish marries succulent shrimp with flavorful tomatoes and feta in a pasta setting, making for a filling and delicious dinner that is easy to prepare onboard.
Start by boiling your choice of pasta (spaghetti or linguine work well) in salted water until al dente. Drain and set aside.

In a large pan, sauté finely chopped garlic and red pepper flakes in olive oil for a minute or two, being careful not to burn the garlic.

Add peeled and deveined shrimp to the pan, cooking until they turn pink. Remove the shrimp and set them aside.

In the same pan, add a can of diced tomatoes, a splash of white wine, and a pinch of sugar. Simmer until the sauce thickens.

Stir in the cooked shrimp, pasta, and a good handful of crumbled feta. Toss until everything is coated in the sauce and the feta begins to melt.

Season with salt, pepper, and fresh dill. Serve hot, with a sprinkle of extra feta on top and a slice of lemon on the side.
2. Shrimp Saganaki
This rich and tangy dish is named after the 'saganaki' pan in which it's traditionally cooked.
Sauté onions and garlic in olive oil, then add fresh, peeled shrimp and cook until pink.

Add a can of diced tomatoes, feta cheese, oregano, salt, and pepper. Simmer until the sauce is thick and the feta has melted.

Serve the dish straight from the pan with a generous chunk of fresh bread to mop up the delicious sauce.
3. Taramosalata (Fish Roe Dip)
No Greek seafood feast is complete without this creamy and tangy dip.
Soak white bread in water, then squeeze out the excess moisture.

In a blender, combine the bread, fish roe (tarama), onion, lemon juice, and olive oil. Blend until smooth.

Serve the taramasalata with a drizzle of olive oil and a sprinkle of paprika, alongside warm pita bread.
These delicious recipes, paired with a bottle of Greek white wine and the gentle lull of the Aegean Sea, will create an unforgettable dining experience aboard your yacht.